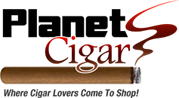 Call: 1-877-97-CIGAR
Your shopping cart is empty!
Terms & Conditions
Planet Cigars Terms and Conditions
LEGAL
CIGARS ON THIS WEBSITE ARE NOT INTENDED FOR ANYONE UNDER THE AGE OF 18.
WARNING: You must be 18 years or older to purchase tobacco related products. In AK, AL, NJ and UT you must be 19 to purchase tobacco products
Planet Cigars Inc. enforces this by Age Verification with Signature when product is shipped.
Price's subject to change without notice. Not responsible for typographical errors. We reserve the right to limit quantities. Special orders for related merchandise can be filled upon request.
SECURITY
We guarantee that every transaction you make at PlanetCigars.com will be 100% safe. Our secure server software (SSL) is the industry standard and among the best software available today for secure commerce transactions. It encrypts all of your personal information, including credit card number, name and address, so that it cannot be read as the information travels over the Internet we continue to mantain PCI Compliants
PRIVACY
The information we collect will be used to notify customers about updates to our web site and periodic specials. We do not share the information with other organizations for any purpose.
LIGHTERS
Due to federal regulations lighters cannot be shipped by air. All orders containing lighters will be shipped by Ground only.
Disclaimers
All gift certificates must be mailed back to us in order to be redeemed. You must make a purchase to redeem a gift certificate.
Brands that are promoted with a gift certificate for every box, the box must contain at least 20 cigars. Boxes with 19 cigars or less require a purchase of two boxes.
On brands with a discounted second box/bundle, the second box/bundle must be of equal or lesser value than the first box/bundle.
Application of gift certificate credit is subject to the "Gift Certificate Program" restrictions.
Samplers and free items - While we make every attempt to fill every order according to specified items, we sometimes have an "out of stock" situation. We reserve the right to substitute items with equal or better value items.
Samplers - In samplers that include cigars from different brands we reserve the right to replace a specific cigar with equal or higher value substitute.
RETURN POLICY
All merchandise shipped from our warehouse leaves here in perfect condition. In the unlikely event that you should doubt the quality of an item, you must notify us within 48 hours of receiving the merchandise to obtain a return Authorization Number. "Collector items" on limited serial number sales are not returnable. Once you have obtained an Authorization Number, you should mark it clearly on the package next to the address label.
We are not responsible for merchandise returned without an Authorization Number. Any package returned without an Authorization Number will be refused. All authorized returns must be received within ten (10) business days after authorization issuance.
Credit for any returned item which is a part of a "combination sale" shall not exceed the purchase price of the lesser value item.
When the original order included a free item, a return cannot be made without returning the free item as well. If the free item was not returned, its regular price shall be deducted from the credit. When the original order included free shipping, the cost of ground shipping will be deducted from the credit for any returned item.
Planet Cigars does not accept items returned outside their original box and will not accept cut or partially smoked cigars. All returned items must still be in condition to be sent back to the manufacturer. We reserve the right to refuse or prorate credit for any returned items received in inadequate condition.
Duties, Taxes and Licenses
All duties, taxes incurred while shopping at PlanetCigars.com are the sole responsibility of the customer. PlanetCigars.com cannot be held responsible (nor vouch) for any orders with pending taxes, duties or licenses.
Indemnification
You agree to indemnify, defend and hold harmless PlanetCigars.com Parties against all damages, claims, liability, costs, and expenses, including but not limited to reasonable attorneys fees, arising out of violation of any of the provisions of this Agreement by you or anyone accessing PlanetCigars.com under your account.
Florida Governing Law
The Site is created and controlled by PlanetCigars.com, Inc. in the State of Florida. The laws of the State of Florida will govern all terms, conditions and disclaimers on the Site, including this Agreement, without giving effect to any principles of conflicts of laws.