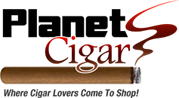 Call: 1-877-97-CIGAR
Your shopping cart is empty!
EL REY DEL MUNDO
The Robusto, Robusto Larga, and the Robusto Suprema.Each El Rey Del Mundo cigar holds a whole rainbow of delectable Honduran flavors, impeccable construction, perfect burn and draw, and an enchantingly complex blend of the finest tobaccos.As far as I'm concerned this trio makes the best three cigars out of any line I've ever smoked.

I'm talking about the "Robusto" line.It is definitely one of the finest cigars made in the world today, but the best kept secret is that there is a line within a line in El Rey Del Mundo.Always smooth, creamy and incredibly sweet, whenever I finish one I want to get another.
There are no products to list in this category.