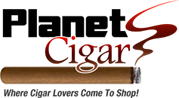 Call: 1-877-97-CIGAR
Your shopping cart is empty!
PLANET CIGARS PREMIUM LONG FILLER CONNECTICUT BUNDLES
Handmade in the Dominican Republic and are born from Cuban seeds; blended with Dominican San Victor and Olor. These Cigars are 100 % long filler and perfectly wrapped in a Ecuadorian connecticut shade wrapper where we took the time to make quality at a good price. These cigars are Mild to Medium in body; cool but well rounded smoke yet manages to release intense complex flavors of creamy oak and leather.
Showing 1 to 7 of 7 (1 Pages)