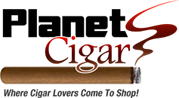 Call: 1-877-97-CIGAR
Your shopping cart is empty!
NINO VASQUEZ CASK-AGED
Nino Vasquez Cask Aged Connecticut cigars features a delicious blend of slowly aged Dominican and Nicaraguan Cuban seed tobaccos, inside the confines of a beautiful shade-grown Connecticut wrapper. Creatively mastered with a pigtail cap for easy cutting and closed end for easy lighting; Planet Cigars is pleased to be carring these fine cigars.
Showing 1 to 4 of 4 (1 Pages)