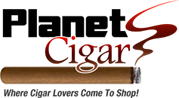 Call: 1-877-97-CIGAR
Your shopping cart is empty!
PLANET CIGARS DOMINICAN PRIME SELECT HABANO CIGARS
Planet Cigars Dominican Prime Select Habano Cigars combines superior tobaccos and great craftsmanship with warm notes of sweet vanilla and dark cocoa beans wich are immediately apparent on the palate that enjoys an opulent, well rounded smoke. This cigar is full and creamy, reminiscent of one of Havana's best cigars.
Showing 1 to 4 of 4 (1 Pages)