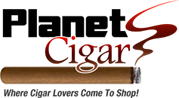 Call: 1-877-97-CIGAR
Your shopping cart is empty!
Blue Mountain Threesome Cigars
Price: $200.00 $139.97

Brand:
BLUE MOUNTAIN CIGARS
Product Code:
BMC-3SOME
Availability:
Out Of Stock
Blue Mountain Threesome Cigars
Have you ever had a threesome? Three wrappers, three different blends, signify a unique and extraordinary cigar smoking experience. Everyone talks about a double wrapper and a triple wrapper but no one has had the audacity of putting three different blends in a cigar. The first Connecticut wrapper layers an amazing blend of Jalapan fillers from Honduras and a Nicaraguan binder. The second wrapper, an Ecuadorian Habano, marries with a tobacco of Honduran and Nicaraguan fillers, as well as a Dominican binder. The trifecta is completed with a Mata Fina Maduro wrapper that is strengthened by secret combinations of binder and fillers. A trio of blends such as this is unparalleled in the cigar world today and yields a smooth, perfect draw to the very end.
Planet Cigars Is No Longer Carrying The Blue Mountain Cigar Line.
General
Cigar Length
6
Ring Size
60
Packaging
Box
Packed
24
Suggested Retail
200.00
JReep
|
First came across these cigars while in Jamaica. Very impressive from start to finish! I had a hard time finding them and was only able to buy a box on my next visit to Jamaica. Since then, the only place I can find them is through Planet Cigars. This cigar is a dedicated smoke, great for a round of golf! Starts out very mild and then the full flavors really kick in. In Jamaica, these cigars cost between $20-$26 each, the box cost me $200 from a beach vendor, but it was well worth it then, and definitely worth it now! I will constantly keep these in stock in my humidor and is one of my favorite smokes!
Carlc
|
What a neat blend.starts smooth, then takes a Carmel woody tone and finishes with a bold chocolate spicy note. Great smoke!
Showing 1 to 2 of 2 (1 Pages)
Write a review
Your Name:
Your Review:
Note: HTML is not translated!
Rating:
Bad
Good
Enter the code in the box below: